How we #NFP: A guest post from Haley Stewart
April 8, 2015
I'm delighted to have Haley Stewart from the blog Carrots for Michaelmas here today. Haley is a convert living in Florida with her ultra marathoner husband and 3 adorable babies, plus chickens. Here's her take on how they currently #NFP. Enjoy!
———–
I get frequent questions about and requests for updates on how we do Natural Family Planning. It's ok, I really don't mind. That's what I get for running a long series on NFP. Because while you can read about statistics and methods all day, sometimes it helps just to hear about a real person's experience.
Does our experience look like everyone else's? No. There's definitely a spectrum and we fall somewhere in the middle. While we've never had difficulty conceiving, using NFP to postpone pregnancy has been relatively easy and "successful."
Since we have not struggled with infertility, we haven't experienced the same challenges as friends who use NFP to increase their likelihood of conceiving or to help them learn more about why they are suffering from infertility, subfertility, or multiple miscarriages.
We also haven't faced the same challenges as friends who have been trained in multiple methods of NFP but have still struggled to space pregnancies. So while it's been pretty smooth sailing for us, I know it's far more difficult for others.
So our experience is just that–our experience. I can't speak for anyone else, but I can share what things look like for us.
I'm not here to defend our family planning decisions and I won't be debating with anyone in the comments about what qualifies as serious reasons to child space and what doesn't. But I think sharing our experience will help give others a sense of what life looks like with NFP–something that I really appreciated hearing about as we were coming around to this facet of Catholic faith.
So here's some background:
It wasn't until after our 3rd baby was born that we actually learned a method of NFP. (Baby #1 was an unexpected blessing before we converted to Catholicism and babies 2 and 3 were conceived during a "whatever happens is great!" season of life.)
While all three pregnancies were difficult in the morning sickness department. Pregnancy 3 was by far the worst. Vomiting through all 9 months. Constant nausea and faintness. And finally, needing to take some heavy duty meds so that I could keep water down and regain some of the weight I lost during the first trimester.
It was hard. Caring for a 3-year-old and a 1-year-old when I couldn't get out of bed was rough on us all and I felt discouraged to the point of being mildly depressed because my physical state so deeply affects my emotional/mental state. Was it worth it? Of course. Beyond worth it. Gwen has brought such joy to her siblings and she is our delight. I look at her everyday and think, "I would do it all over again for you. I would do anything to have met you." Because I'm pretty sure life is a thousand times better because she's in it. I'm serious folks, she's one fantastic kid.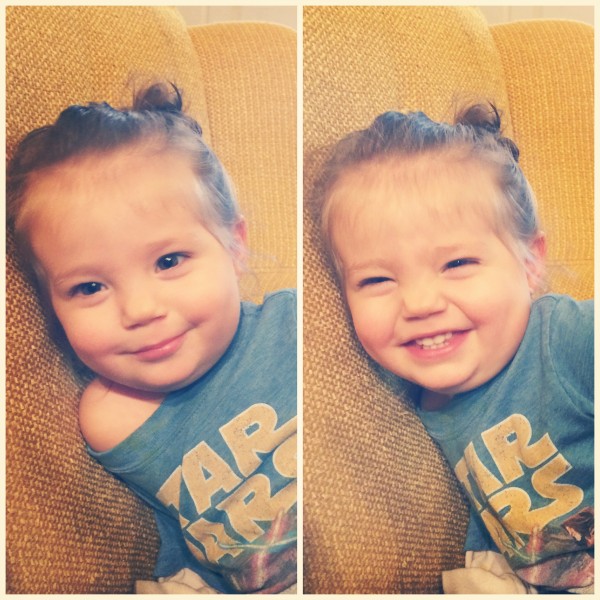 But after her birth, Daniel and I discerned that my body and my mind needed a break from pregnancy. While in my ideal world, ecological breastfeedingwould work for me like it does for many women to naturally space my pregnancies in the two years apart range, that's not the world I live it. My fertility returns sometime between months 4-6 postpartum.  Yes, I follow all the ecobreastfeeding rules. But it's just how my body works. So, it was time to choose a method of NFP to learn.
For many folks, NFP is made more overwhelming by the complications of wonky postpartum/breastfeeding cycles. How am I going to learn my fertility signs when my postpartum body is giving me nothing close to a regular cycle?–is something I hear a lot. Well, it really is possible, although trickier than learning NFP when you're not postpartum.
Friends of mine have had great luck learning Creighton and Billingspostpartum, but we opted for Marquette because I was drawn to the black and whiteness of using the Clear Blue Fertility Monitor and because there are no NFP instructors locally (argh!) and it was nice being able to learn a method from the Marquette website. (While the monitor was created to help women wanting to conceive figure out ovulation and peak fertility, Marquette method also uses it to pinpoint those days in order to postpone pregnancy.)
I found Marquette to be pretty easy to learn and it took away anxiety during the postpartum days. And on the Marquette site you can ask a doctor a question and he will look at your chart and reply. Except for one extended season of abstinence during my 3rd month postpartum while my body was revving up and my fertility was returning, the seasons of abstinence really weren't that bad. I mean, sure, abstinence is never something we're real excited about but it hasn't been impossible or miserable by any stretch of the imagination.
After following the monitor for a few months, I'm now able to discern some of my fertility symptoms that always manifest just before the monitor shows me that the hormone surge preceding ovulation is occurring. So it's been helpful to have the monitor's confirmation as I'm learning.
At this point, I would be interested to learn Creighton or Billings so that I'm less dependent on the monitor and I think those methods would also decrease the number of days that require abstinence for us which would be a yay.
I'll also say that while following the Marquette postpartum/breastfeeding protocol has been working great for us, I do have a good friend who conceived while trying to postpone pregnancy using this method, so don't misunderstand that I'm touting this method as the 100% successful method. It's actually more like 97-99% correct use, 88-89% typical use.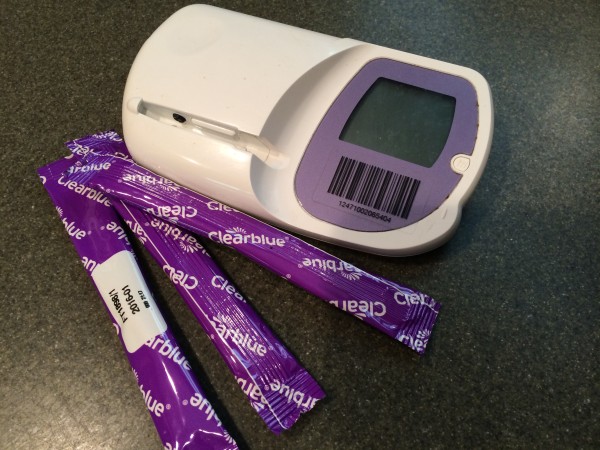 The downside of the method is that there's a hefty upfront cost of purchasing the monitor and a continued monthly cost for test sticks. But now that my cycles are closer to normal, a box of test sticks lasts me about three months. Anyhow, I thought I'd throw that out there since the method could be cost-prohibitive depending on your current budget.
I honestly would have preferred to spend that money being coached in a method like Creighton, but I would have had to do all my classes over Skype since there are no local instructors. One of my close friends is in the Creighton training program (yay!) so I plan to get trained by her when she completes her certification. P.S. if you want to support NFP,  you can contribute to her brand new training fund (it is monumentally expensive to go through the training process) so that she can serve families in our region. A local NFP instructor is SO desperately needed.
Our youngest, Gwen, will be two years old in May. Having these months to recover my health, improve my diet, take supplements, and get back into shape (as well as get a chance to breathe mentally and emotionally) have been a huge blessing to our family. Having the energy to strengthen my relationships with my two oldest kids after being physically distant for a few months due to the nausea/vomiting has also meant the world to me.
While we joyfully hope for more Stewart babies in the future, postponing another pregnancy for the past few months has given us the space to recover and recharge. So I am very grateful for a natural method of child spacing that honors my body, sexuality, and fertility and empowers me with information about how my body works.
Anyhow, that's what NFP looks like for our family right now. I can't say how long we'll be postponing pregnancy because we kind of take it one month at a time. And were we to get pregnant today, the news would be met with joy, not disappointment. So, prayerful discernment continues. And I've got my monitor to help me figure out what my body is doing in the mean time.